on the thumnails for a full-screen look and more examples!
Placing colorful cold glass rods into a hot flame is mesmerizing.
Using a flame approximately 2300- 3000 F degrees on an oxygen/propane torch, cold borosilicate glass rods of varying thickness are melted. Once molten, the glass is shaped using hand movements, gravity, and small hand tools. Borosilicate being a hard durable glass, rather than soft glass (which is often referred to as soda lime glass with a lower melting temperature and often less thick) takes considerably more cost to purchase and time to work the glass into the final object. Once the piece is finished the piece is placed in a kiln at a temperature to mature the color taking several hours or days and is then annealed. Annealing is a process that relieves the glass of stress so it does not break; It is a several hour slow cooling process in which the kiln heat is slowly brought down to room temperature.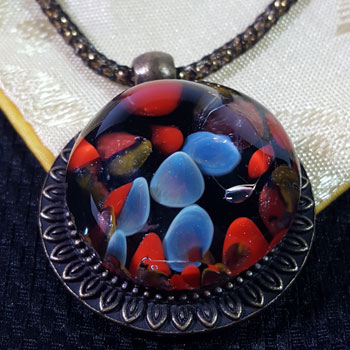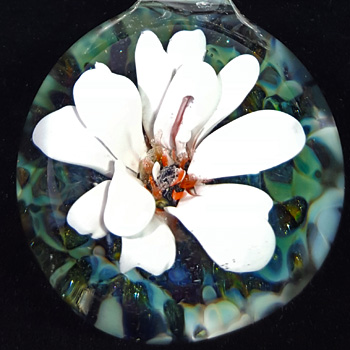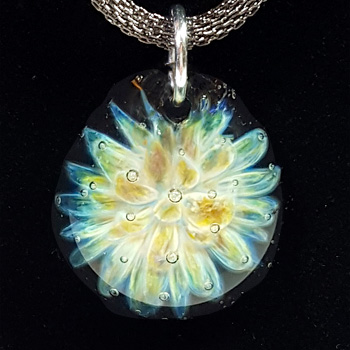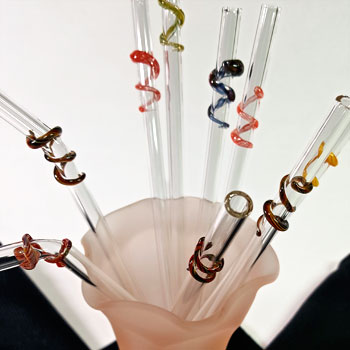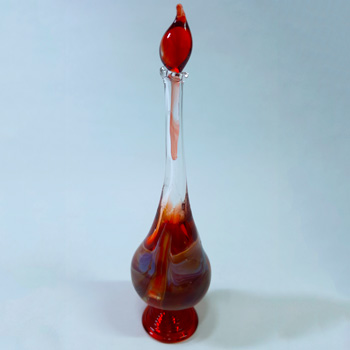 Back to top
Millefiori is an ancient technique where glass canes are fused together then sliced to reveal a multitude of patterns. The canes are then hand cut into tiny slices. I take those pieces imported from Murano Italy and intricately arrange them, kiln-fire multiple times, and cold work the final fired piece by hand and with small glass specific machinery. The finish piece is then set into a bezels for wearing as bracelets, pendants, and earrings.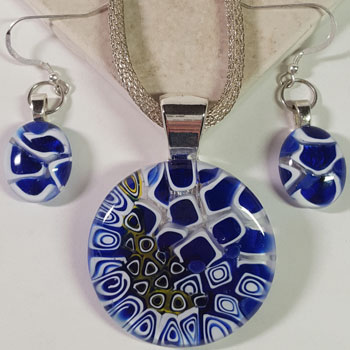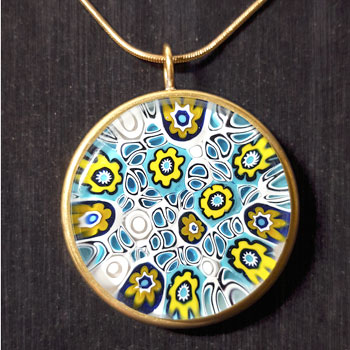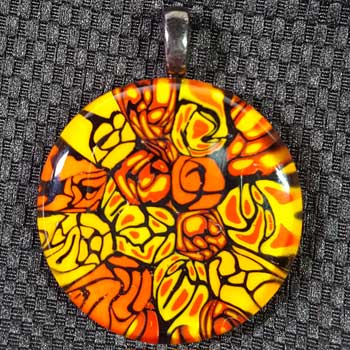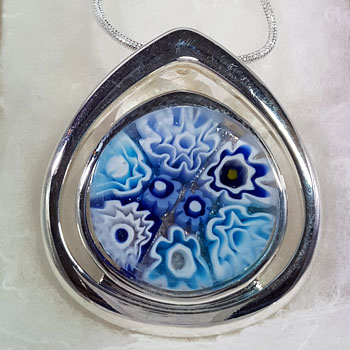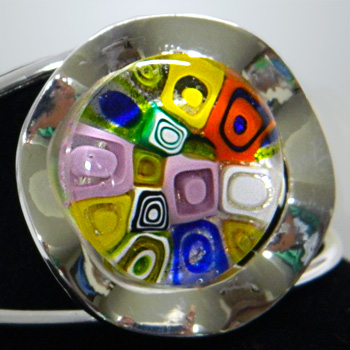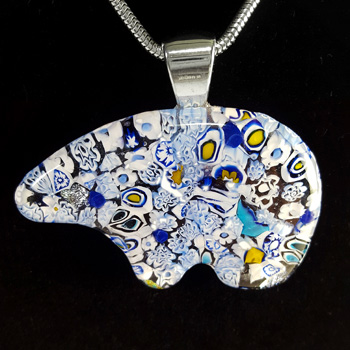 Back to top
In kiln formed glass, glass sheets hand cut into pieces, glass frit, and powdered glass are utilized. These glasses are built up in layers. The layers are then fired several times in a kiln to the temperature of F 1300 - 1700 degrees. After firing, the melted and reshaped glass will need finish work with cold working techniques. The piece is then fired again to create a finished product that captures the color and image.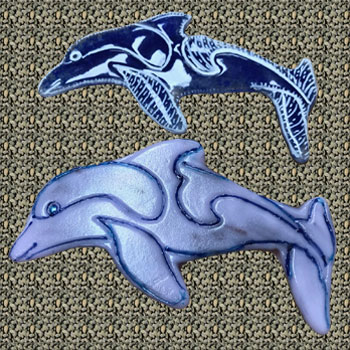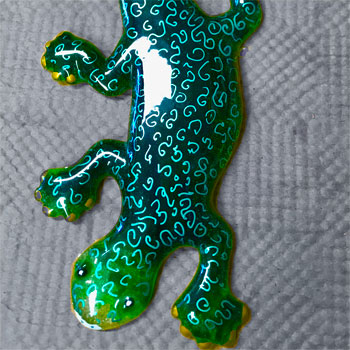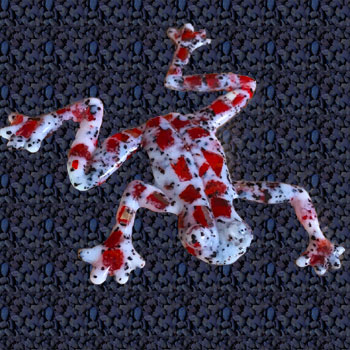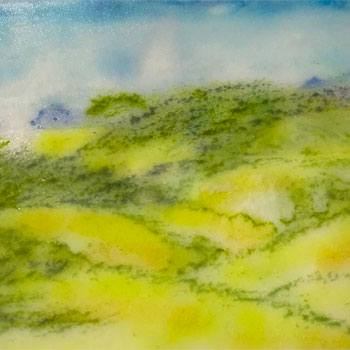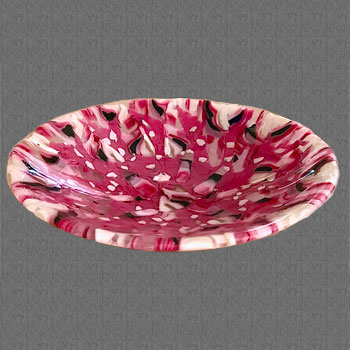 Back to top
Combing is a process where hand cut glass strips are assembled and set in a kiln and fired to a high temperature. Once the right temperature is reached the kiln is opened and with safety equipment and a metal rod the hot hot piece is manipulated. The kiln is closed and either the process repeats or the kiln is set for the temperature to be very slowly reduced to room temperature over a period of 6-8 hours. The combed pieced is then cut into strips or left in tact to be incorporated into a final project that takes sanding, cutting, grinding, reassembling and another round in the kiln to produce a finished creation.
Pattern bars are made with strips of cut glass. Assembled and kiln fired. The finished piece is then cut on a wet tile saw into sections that beautifully reveal the inside pattern of the combined fused strips. These strips are then reassembled and fired again to create a flat piece. This finished flat is then fired once again into a functional form or blown into a vase.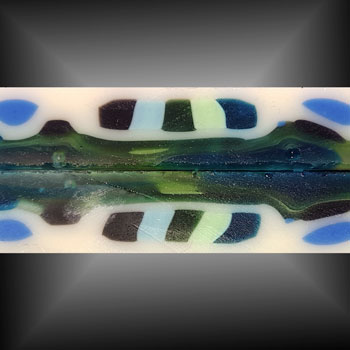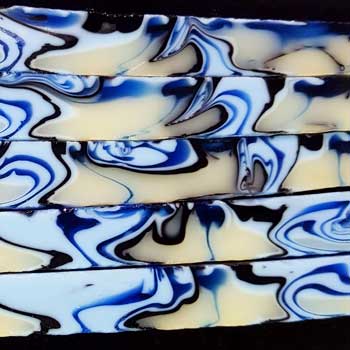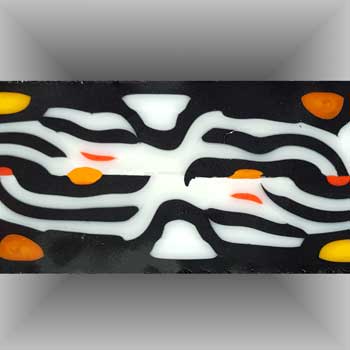 Back to top
Fused glass mandalas takes several steps and processes. These pieces utilize glass frit and powdered glass in multiple sections. Each piece is fired in a kiln - often more than once. The pieces are then re-assembled into the final mandala image..
Cold glass mandalas are assembled using mosaic techniques with both pre fused glass pieces and a variety of cold glasses that are cut and layered in patterns. This pattern is then filled with grout between the glass pieces to create the final image.
Drawn mandalas are detailed using colored pencils and inks that take days to blossom into the finished impression.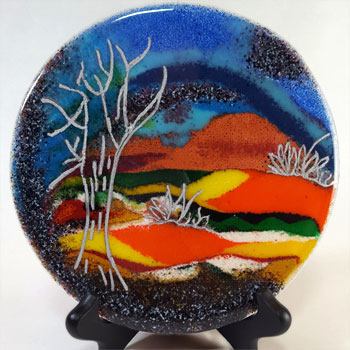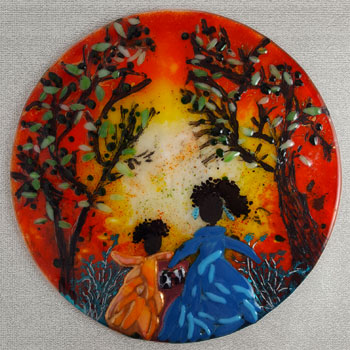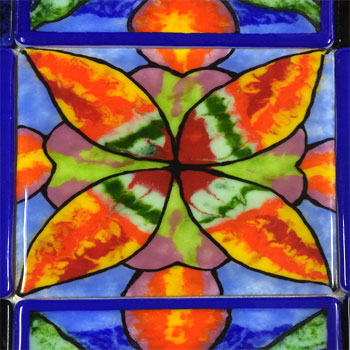 Back to top
Glass flows are made with glass billets and sheets. Thick pieces of glass are cut and weighed and then placed in a dammed mold. The mold is then fired for several hours with one end propped up. As the weight of the glass becomes hot and fluid, it pushes down into the bottom of the mold which effects a large wedge of glass with a depth that can stand on its own. This depth can be further enhanced with a wet tile saw and various grinding or sandblasting techniques.
Back to top
Art work and jewelry is created using a multitude of learned and experimental self taught techniques. The materials incorporated might use one or several of the following: metals, precious and non precious stones, beads, buttons, findings, polymer, metal and/or glass clays, colored pencils, oil pastels, inks and paints.